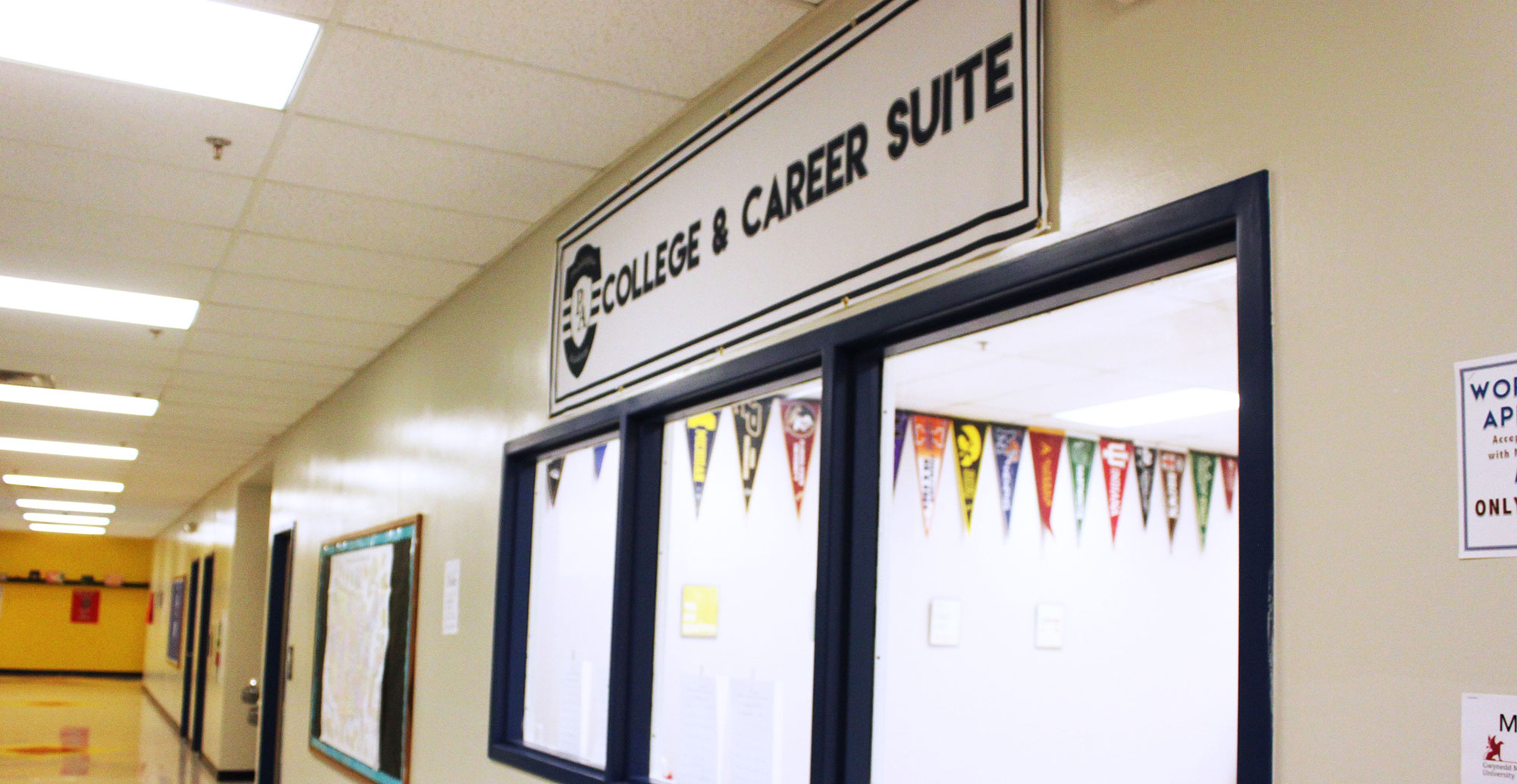 The mission of Philadelphia Academy Charter School is to prepare students to achieve the highest level of their potential academically, socially, and morally. As the college and career counselor, I work with students at all grade levels to explore career and college opportunities, and help them make decisions and goals that will allow them to reach their highest potential. I coach them through their entire decision-making process, and ensure that they are best prepared for life after graduation.
Information about colleges, trade schools, the military, college entrance exams, programs for students with disabilities, and much more is readily available in the college and career office. There are several computers available for students to perform college searches, scholarship applications, and other career-related work. The ASVAB test is given at PACS in both the fall and spring of each school year. The PSAT test is offered for 10th and 11th grade students every October. PACS also offers CollegeBoard SAT prep at least three times a year, at a discounted price. College representatives visit on an almost daily basis every fall, and there are two college fairs every school year.
Communication is key! PACHS students and parents all have access to Naviance Family Connection. It is extremely important that all students (especially seniors) log into this program often. Besides college searches, career searches, personality tests, and scholarship info, all college visit announcements will be posted on the Naviance homepage. Students are expected to register for these visits through the Naviance site. Naviance and e-mail are the best ways for me to communicate important events and deadlines, so please check each of them often!
Mrs. MacConnell joined PACHS as the college and career counselor in 2014. She earned both a Bachelor's degree in Psychology and a Master's degree in School Counseling from Gwynedd Mercy University and a Master's degree in Educational Leadership from Grand Canyon University. Mrs. MacConnell is certified as a secondary school counselor. Prior to her position at Philadelphia Academy, Mrs. MacConnell worked as a high school counselor for the School District of Philadelphia and at a local private school. In addition to seven years experience in high schools, Mrs. MacConnell has five years experience working with adolescents in the field of mental health.

PHILADELPHIA ACADEMY REQUEST FORM DIRECTIONS:
Download and print the form below form and complete the Graduate Information and Institute where the Transcript Should be Sent. There is a $5 charge for each transcript.
Please make the check payable to "Philadelphia Academy Charter School."
Send this completed form along with your check to:
Guidance Department
Philadelphia Academy Charter School
1700 Tomlinson Rd
Philadelphia, PA 19116
Please note this cannot be done over the telephone, as we need written authorization from you to release your records. Any additional instructions or information may be written on the back of this request.
Click here to download transcript Request form >>
Sophomores- You are eligible to apply for the University of Pennsylvania's Summer Mentorship Program! This is a FREE 4-week program in the summer that allows incoming 11th grade students to explore campus and learn about [...]

Meet Ms. MacConnell